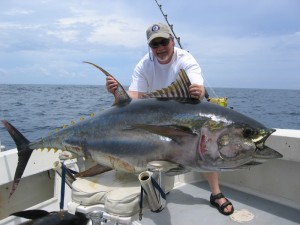 Sport fishing in Costa Rica
Sport fishing generates approximately $750 million a year in tourism for the country.
Costa Rica became a destination unique and highly sought by thousands of tourists for fishing. So much so, that for the third time the Central American country will host the international fishing tournament.
The Edition number 73 of the world fishing tournament will start March 3 and the event will take place at the crocodile Bay in Osa, there 51 fishermen from different countries will integrate 17 teams that fish between 20 and 30 miles from the coast in 31 foot boats.
Activity is organized by the Amateur fishing Club and sponsored by the Costa Rican Tourism Institute.
Costa Rica is a country of destination for sport fishing and the most important marinas in the country are located just minutes from the properties that you can enjoy at the residential complex in Costa Developers.
For example, the complex tourist and residential Los Sueños Resort and Marina are located in the Central Pacific 10 minutes from his property at Costa Montaña and also near Costa Esterillos and Costa Reserva.
This fishing tournament will be governed under the guidelines of tourism responsible fisheries catch and release of species. Such species as the fish Vela and Marlin 100 points awarded to those fishermen who catch them and then returned them to the sea.
One of the organizers said that it is the third time that this event takes place in Costa Rica. In addition to expected the arrival of hundreds of tourists, fishing industry generates the country nearly 750 million dollars a year.
The Central American country was elected by the Internal Light Tournament Association; this corresponds to the global regulator of fishing in 2010 for the event which is soon to be held. Addition for next year is expected to be taking place in Venezuela.
Posted by Costa Developers
Share on Facebook